Blue Jays prized pitching prospect Roberto Osuna, who made a dazzling debut with short season Vancouver in 2012, continued his rapid rise up the organization's prospect ranking list with a strong start to the season with Low A Lansing in 2013.
Osuna's season was derailed by a diagnosis of a torn Ulnar Collateral Ligament in early May. The club immediately shut the Mexican righthander down, and sent him for a month of rest and rehab in Florida. Upon his return, it appeared that the regimen had been successful, as Osuna ran off a stretch of dominant starts in June. That run was short-lived, however, and after he was lit up for 10 runs in 1 1/3 innings in an early July start, Osuna was shut down again, and underwent Tommy John surgery at the end of the month.
All signs seem to indicate that the surgery was a success, and Osuna was on the road to recovery. TJ surgery takes about a year to recover from. According to the website yougoprobaseball.com, here's a brief synopsis of the recovery timeline:
Days 1 - 7
The elbow is put into a hard brace and immobilized at 90 degrees. The baseball player will be able to move their hand and do light grip exercises.
Week 2
Baseball players can begin to use the arm to eat and do other everyday movements. The elbow extension is gradually increased. The baseball player can get rid of the brace at 4 - 6 weeks.
Weeks 3 -8
The baseball player will start working on their range of motion. He can also start doing light dumbell exercises. .
Week 10
The baseball player will be able to simulate a throwing motion.
Weeks 12 -14
The baseball player will be able to start to swing a golf club!! He will also start going through the throwing motion with a 1 pound medicine ball.
Week 16
Baseball players will begin a throwing program. It will be a flat ground, soft tossing at 45 feet. It will be 50 tosses broken into two 25 toss sessions. This is to be done every other day. Distance and repetitions will be increased every week until the baseball player can reach 150 feet.
Month 6
The baseball player will begin to throw off of the mound if they are a pitcher. They are only to throw fastballs at 50% gradually increasing the number of pitches and intensity.
Month 7
The pitcher will begin throwing breaking balls on flat grounds.
Month 8 - 10
Start practicing in game conditions.
Month 11 - 12
The baseball player can return to competition. It usually takes a full season for a baseball player/pitcher to feel as good as he did before the injury.
As the calendar gets set to turn over to a new year, we see that Osuna should be at about month 6, and should be starting to throw off of a mound. He indicated on Twitter that all was well about a month after surgery. A photo he posted around that time seems to show a slimmed down teenager: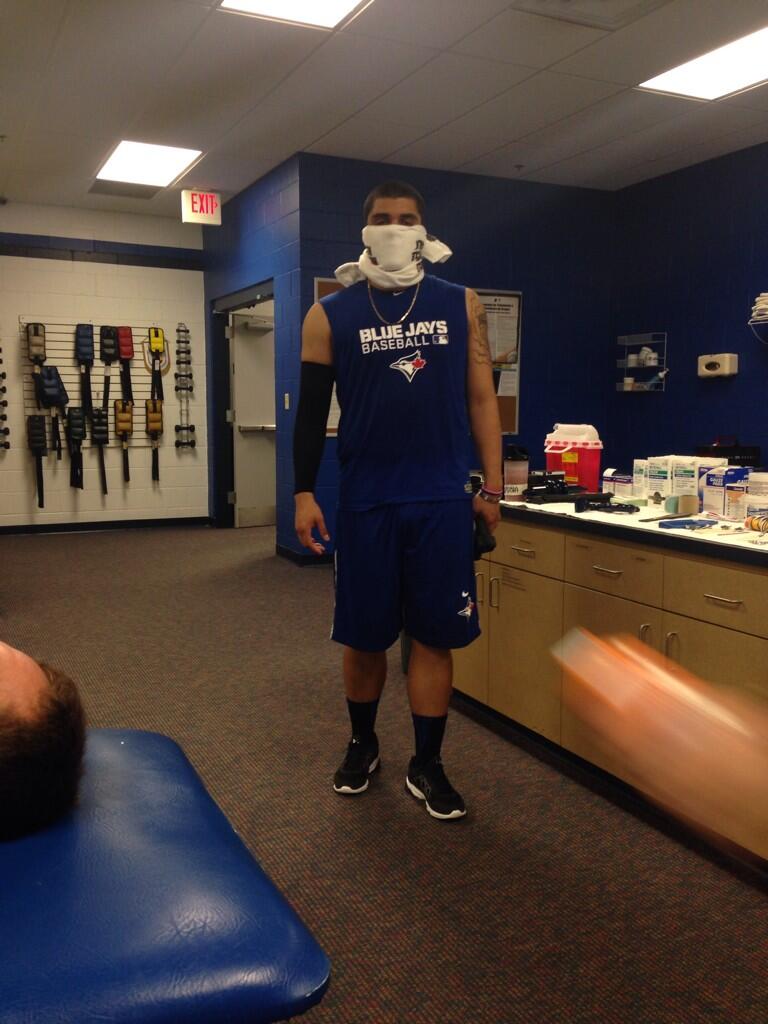 And this is probably a good thing. There has been much discussion about Osuna's high maintenance body. Keeping in mind that he was pitching in the Mexican League as a 16 year old, however, we're not sure if the supposed body issues led to the torn UCL. UCL tears develop over time, and according to regenexx.com, more often than not they develop as a result of biomechanical issues. With so much stress being placed in his elbow at such a young age, a torn UCL may have been inevitable .
Just the same, we're hopeful that the injury has been a bit of a wake up call for Osuna, who is now reportedly more devoted to conditioning than he had been prior to the surgery. For pitchers who make a full recovery from TJ surgery, the additional velocity that they sometimes develop comes from that improved fitness, and not from the surgery. Being in shape will only benefit his career.
So, now that we have reached about the halfway point in Osuna's rehab, the question has to be asked: why did they wait so long ? News first broke about the UCL tear in early May, and Osuna didn't have the surgery until almost 3 months later. Why the delay ? What was the rehab regimen that he underwent in Florida after the first shutdown?
We don't know, and won't likely know the reason(s) for sure, but there is a possibility that the club tried Platelet-Rich Therapy on Osuna after his first shutdown.
Regenexx, which is a clinic which offers "(a)family of non-surgical stem cell and blood platelet treatments for common injuries and degenerative joint conditions, such as osteoarthritis and avascular necrosis,"offered some insights into why the therapy hadn't been meeting with success among injured MLB pitchers The treatment involves taking a small amount of the athlete's blood and spinning it in a centrifuge, to separate the platelet-rich plasma from other blood components. The concentrated platelets are then injected into the injury site.
The theory behind the treatment is that the platelets secrete growth factors that spur tissue recovery. Tiger Woods has had the treatment (although he was treated by Dr Anthony Galea, who pleaded guilty to transporting Human Growth Hormone across the Canada-US border), as has NFLer Hines Ward.
Scientific American
, in an article about PRP therapy, quoted Dr Denis Cordone of New York University, who has used PRP for many of the school's athletes. Dr Cordone indicated that they had
had some success treating tendon injuries such as achilles tendonitis. According to Dr Cordone:
A reason why it's difficult to heal these tendon injuries is related to poor blood supply to the region.
The perfect example would be the Achilles. It's a tendon with, in general, a poor blood supply, so when there are these microscopic tears or chronic scarring, the body has a difficult time healing it. The theory is that the body can't on its own get enough of these healing or growth factors to the area, but now this concentrated platelet injected there just enhances the nutrients and growth factors to allow the body to heal it.
Dr Cordone did admit that the body of research about the therapy's effectiveness was still quite small, and more study was needed to determine the treatment's true value.
So, it's easy to understand why teams would opt for this treatment in the case of a torn UCL. It's a less invasive form of treatment, and there has been some success.
It may also be falling out of favour, however. Regenexx referenced a
Sports Illustrated
article that reported that the Orioles had opted for TJ surgery on mega-prospect Dylan Bundy, who underwent two months of PRP therapy. Chad Billingsley, Jaime Garcia, and Johnny Venters all opted for TJ after PRP failed to treat their torn UCLs as well.. Mets phenom Matt Harvey tried the rehab route as well after tearing his UCL in August, but ultimately settled for TJ surgery in October.
Regenexx expressed surprise at the lack of success of the therapy, and offered some suggestions as to why it hadn't worked with the above group.Regenexx argues that contamination is often found in PRP mixes, giving patients a sub-optimal dosage (Rengenexx argues that the athlete's own stem cells would be the best treatment for severe tears, but few clinics are equipped to use this form of therapy). Further, Regenexx claims that few sports orthopedists have access to ultrasound technology, which would provide a more accurate map of the UCL tear than an MRI does. As a result, the PRP may be administered, in their words, "blindly." Regenexx quoted a paper that found that when surgeons injected PRP into the UCL while observing it under stress in an ultrasound, there was an 88% success rate for the athletes involved in the study. It was noted that the UCL tears being treated were partial tears.
So, PRP is at best an unproven form of treatment, but it's inconsistent application may be limiting its effectiveness, or it's being prescribed for tears that are too large. We don't know for certain, of course, that Osuna underwent this therapy, but it seems likely, given how many other teams have tried it. If, in fact, the treatment was tried on Osuna before surgery was considered, we can understand it. A UCL tear is a major injury to a throwing athlete. You're looking at at least a year of rehab. So, the Jays may have figured, the remainder of 2013 and most of 2014 will be a write-off for Osuna anyway, so why not try a treatment that has worked in some cases first ?
Athlete's Care, a sports medicine clinic in Toronto, offers PRP injections, according to their website, likely for those with extended health care plans. Regenexx suggests that some UCL tears are just too extensive for PRP therapy to work. So, while some injured pitchers have tried it without success, it still seems like a wise first course of action, depending on the extent of the tear, which perhaps medical science hasn't been able to establish benchmarks on.
Osuna won't turn 19 until February, by which time spring training will just be getting started. If his rehab continues to go well, he will be throwing pitching in simulated games by April, at which point he likely will be kept in Florida for extended spring training. And if things progress well from there, he may be back pitching in the minors by August. Luckily, Osuna is young, and doesn't have to unlearn years of ineffective mechanics and questionable conditioning habits.
Update: December 26th, 2014
Osuna made his return to competition with an outing in the GCL on July 9th this year. He didn't pitch for almost a month after that, this time in the Florida State League.
Reports indicate that Osuna had most of his former velocity back, but command was an issue. Such was the case for him in the Arizona Fall League - he caught too much of the strike zone at times, and the advanced hitters he faced made him pay for it, at times.
Osuna's pattern in very much the norm - speed seems to return before control.
Of minor concern is Osuna's wrist wrap, which some scouts feel limits the movement on his fastball, which makes it easier for hitters to track. Osuna's changeup continues to draw rave reviews, as does his advanced feel for pitching.
Much has been made about Osuna's supposed high-maintenance body. Reports from Arizona indicated that he has radically changed his physique, meaning that he has taken conditioning and proper nutrition more seriously.
Osuna may repeat High A this year, and will likely be rewarded with a promotion once he demonstrates mastery of hitters at that level.