We're a little late on this one for a variety of reasons, life being chief among them, but here is the list of prospects the Blue Jays have sent to Florida for Instructional League: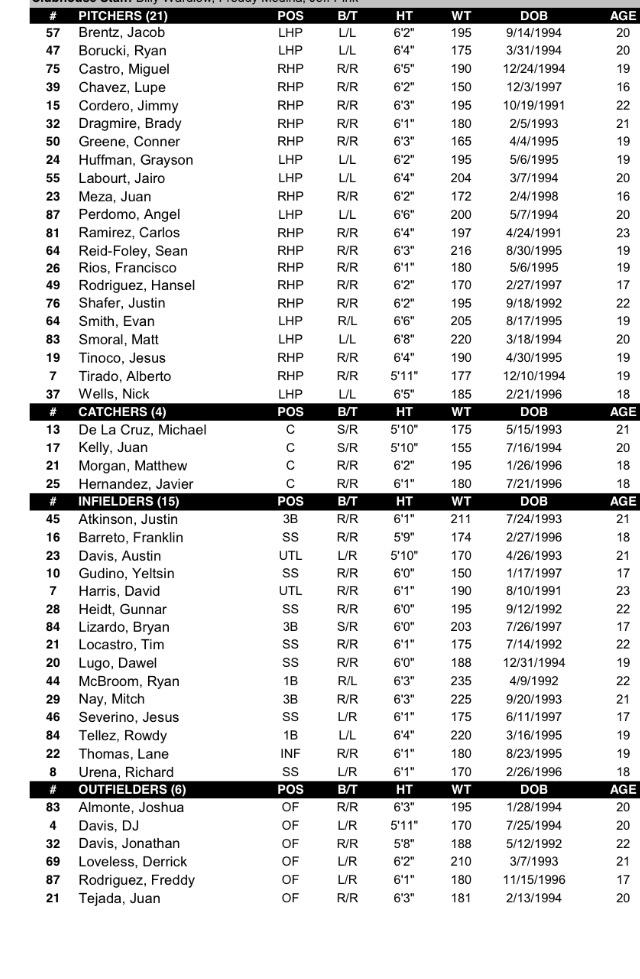 A note to those unfamiliar with Instructs - it's based at the spring training sites of the parent Major League clubs. It's a teaching league, where prospects can have their skills tweaked or refined and tested in game situations where the scores and standings don't really count. Typically, an organization invites 40 to 50 of their top prospects from the lower levels of the system. The players are instructed by the best teachers in the system, in the hopes that their play will make significant strides forward the following year. Sometimes, players who missed significant time due to injury are invited. Players who are learning a new position also at times get an invitation. The invite is a sign that the team believes in the upside of the young player, and that they are willing to invest added time into their development. Players work on skills six days a week from 9 am to noon, followed most days by a 1 pm game. The schedule is very compact, starting in mid-September, and wrapping up by the end of the first week of October.
The pitching staff the Blue Jays have assembled speaks to the depth the orgnaization has at this position. Labourt and Tirado, even though they took a bit of a step backward from Lansing to Vancouver, are still among the top mound prospects in the system. Castro pitched at three levels, and has to be thought of as the top hopeful on this staff. Reid-Foley was considered by many to be the steal of the draft, and was listed by
Baseball America
as the GCL's 8th-ranked prospect. Smoral and Borucki were ranked the 7th and 12th Appy League prospects, respectively, even though they spent only a half (short) season there. Smith, Greene, and Huffman pitched at both the GCL and Appy, while Tinoco pitched better than his numbers would indicate at Bluefield. Ramirez is a converted outfielder who pitched well, while Wells, the club's 3rd round pick in June, struggled at the GCL. Perdomo was lights out at times in the GCL, and is an intriguing prospect. Brentz, who is still relatively new to pitching, showed signs at putting things together in the GCL, while Cordero is a fireballing reliever who has hit 100 on the radar gun, but is likely at Instructs to refine his command and secondary pitches, as his numbers haven't reflected his potentially dominating heat.
Catcher Matt Morgan was a well-regarded 4th round pick in June, but struggled mightily in the GCL, posting an anemic line of .092/.188/.134, with 56 strikeouts in 119 at bats.
The depth of infielders is second only to the pitchers among this group. Barreto, who at 18 led the Northwest League in runs, hits, doubles, total bases and RBI, and was in the top five in several other categories, is the leading prospect in this group. With a position switch from shortstop having long been predicted for him, we can't help but wonder if this is where and when it's happening, or at least the groundwork is being laid for it. If Daniel Norris and Dalton Pompey stick with the big club coming out of spring training, it's hard not to think of Barreto as the system's best prospect.
Joining Barreto is Rowdy Tellez, who skipped from Bluefield to Lansing, going back to Vancouver to help the C's with their playoff run. Tellez hit .305/.375/.438 in 259 PA's this year, and is looking more and more like a middle of the order bat. Also on the roster is shortstop Richard Urena, who is arguably the organization's top defensive shortstop (including the MLB club), who was named the #3 Appy prospect by BA. Shortstop Dawel Lugo, who struggled near the end of his first full season, is also on the roster, along with Mitch Nay, who many considered the top position player in the system prior to the season, and multi-position player Lane Thomas, a June draftee who played at two levels. Yeltsin Gudino, who struggled with the bat in his first stateside season still has plenty of upside at only 17.
Outside of Pompey, the system is thin on outfielders. DJ Davis, who struggled in his first year of full season ball, is on the roster. As we have pointed out, Pompey really didn't take off until the last month of his fourth season of pro ball, so there is still considerable hope and time for Davis. Joining him will be Derrick Loveless, who skipped a level to play at Lansing and didn't look out of place, Josh Almonte, who hit .307/.343/.398 at Bluefield, and Jonathan Davis, who missed much of the season with injury, and Juan Tejada, who turned a lot of heads in the GCL.
The biggest drawback to this talent pool is that they are all several years away (at best) from the majors, and only a fraction of them will even get a sniff of the big time. Just the same, it's an impressive array.