With play in the Australian Baseball League, a loop designed to give some added reps to MLB prospects, and to give homegrown players a chance to develop, heading into the final month of its season, we thought we would take a look at how several Blue Jays prospects are faring, and examine some general issues with the league.
Blue Jays Prospects
The player everyone is asking about is CF
Anthony Alford
. And that's understandable, given that the 2012 draftee was labelled a 3rd round pick with 1st round talent, but dropped in the draft due to his commitment to college football.
For the past three seasons stateside, Alford has reported to extended spring training after school (and spring football camp) had ended, and then was assigned to a short season team for several weeks of play before returning to school in early August. The Blue Jays tried to convince Alford to give up the gridiron this summer, and after initially spurning their contract extension, he agreed to switch to the diamond in late September. As a result of his truncated baseball experience over the past three years, Alford has been limited to 107 plate appearances, only 25 of them at the full season level.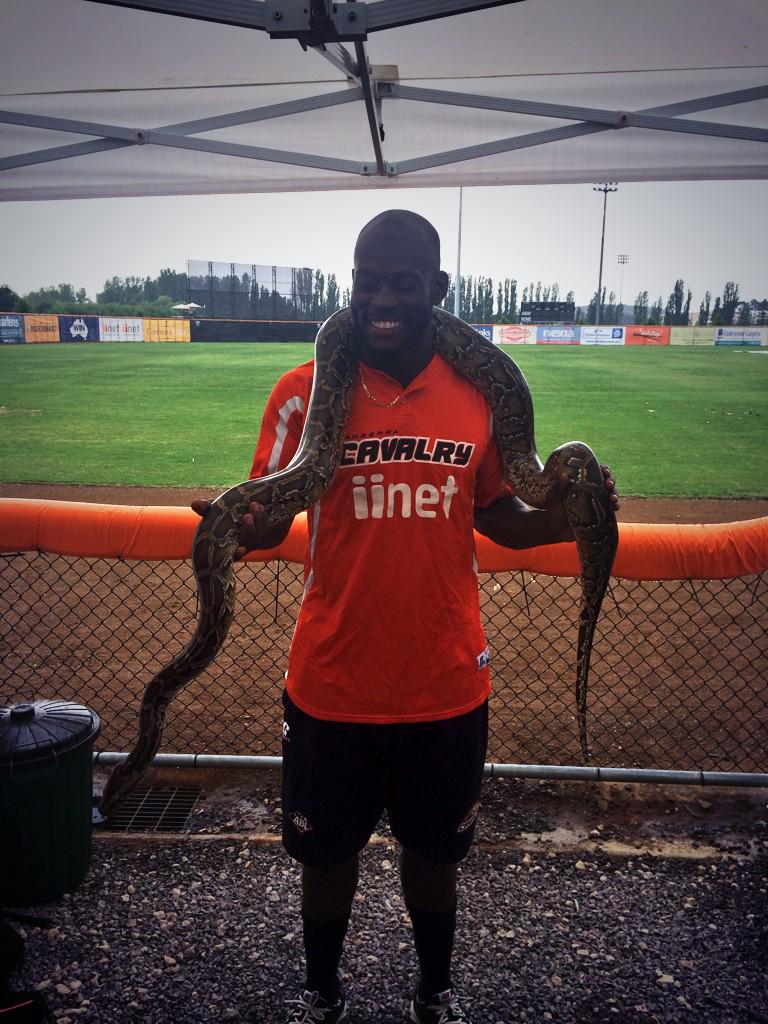 Anthony Alford photo - @ajalfor1
As might be expected, Alford has struggled at the plate against the more experienced pitching in the ABL.
One of the youngest players in the league, Alford has posted a line of .206/.325/.309, and is hitting only .179 over his last 10 games. His 35 strikeouts are tied for the league lead, and his 32% K ratio is a concern. Pitch recognition was a problem earlier in the ABL season for Alford, but he has started to work the count more often. Our viewing of his AB's over the past weekend showed that the opposition was giving him a steady diet of breaking balls on the outer half of the plate, and fastballs low on the inside part. Alford was doing a better job of laying off the breaking balls, but swung at several fastballs outside of the zone, resulting in weak groundball contact. Word obviously has gotten around the league, and Alford isn't being thrown a whole lot of strikes.
When he has shown some patience, and has attacked pitches in the strike zone, Alford is starting to drive the ball better, and is getting some more line drive type contact. We can't find a stat for it, but Alford has to be among the league leaders in hit by pitches. Ordinarily, that might be indicative of a player who crowds the plate, but we think it's more of a reflection of Aussie pitchers pounding him with those inside fastballs. Alford has worked on his bunting, and it has paid off, as he has dropped a number of successful ones along the third base line, and the 3rd baseman in almost every situation has had no chance to get him at 1st.
On the basepaths, Alford's speed can be a distraction, but it hasn't translated into huge SB totals. Again, veteran pitchers know how to hold runners on, and the Canberra coaching staff likely prefers Alford to pick his spots. Alford is tied for the league lead in runs, which granted is sometimes more of a reflection of the hitters behind him in the lineup, but to us, it shows that Alford is getting on base (not as much as we would like for a leadoff hitter, but at a better rate than we had expected), and is using both his speed and baserunning smarts to get into scoring position. He made a heads up play over the weekend and impressed us. Taking his lead from 2nd, Alford froze for a second as Christian Lopes hit a weak chopper to the 3rd baseman, who didn't look over at him before he threw to 1st, and Alford alertly took 3rd as a result.
In the outfield Alford has made some highlight reel plays. He also booted a fairly routine flyball that led to a run in his last game. He shows good reaction to the ball, and a strong arm here:
The Blue Jays likely expected Alford to have some struggles at this level. The experience of playing every day from Thursday to Sunday, and having to cope with travel and adjusting to life in a country that's just a little bit different from living in America is probably just as important. We're sure the Blue Jays would rather his first 100 AB-season had come in the GCL two years ago, and not against pitchers who have a plan.
Christian Lopes, IF
Lopes was a 7th round pick in the 2011 draft, and was a fairly high profile high school player.
We wonder if he would have been better going the collegiate route, because his numbers after 4 minor league seasons are those of an org guy's: .251/.321/.367.
Something about the Southern Hemisphere has agreed with Lopes, however, and next to Jack Murphy, he has been Canberra's most consistent threat, hitting .343/.384/.471.
Lopes has a compact stance at the plate, and puts the ball in play, striking out only 8 times in 110 PA's (he doesn't walk a whole lot, either). The pop has not been there, but the ABL seems to be more of a groundball pitcher league, and Canberra's home stadium, Narrabundah Park, is a tough home run place, with LF and RF lines 330 feet down the line, and has the usual high Milb outfield walls:
Austadium.com
Just the same, Lopes has been a pleasant surprise, and while he's been off the Top Prospects radar for a while now, his Australian experience will set him up nicely for AA.
Jack Murphy, C
Something happens to Murphy in the rarefied air over the Pacific Ocean on the flight to Australia every fall. He turns from a Crash Davis-type career light-hitting (.230/.310/.373) journeyman catcher to one of the most feared hitters in the ABL.
This is Murph's 3rd go at playing down under, and he continues to mash, hitting .356/.417/.545 this year.
According to David Polkinghorne, who covers Canberra for
Canberra Times Sport
, Murphy is a beloved figure in the Nation's Capital because of past heroics. He led the Cavalry to the Claxon Shield, emblematic of ABL supremacy, in 2013, and hit a key grand slam to lead them to victory in the now-defunct Asian Championship tournament.
Murphy is a big guy (6'4", 230), and looks downright menacing at the plate. Polkinghorne lauds his leadership abilities, and calls him, "a true leader of the team both at and behind the plate."
The obvious question is how a guy who has always been a minor league back up turn into Mike Piazza when he crosses the International Dateline? It likely has everything to do with the quality of pitching in the league. Many of the veteran types have breaking balls the likes of which younger players like Alford have never seen before, but not the velocity to get players out who have the patience to lay off pitches outside of the strike zone. The younger ABL pitchers tend to have less control, so they eventually have to give in to hitters who are willing to wait them out.
Murphy is a great handler of pitchers, and likely has been a good mentor to the younger players on the team. He seems to have a place to play as long as he wants to.
LB Dantzler, 1B
The 2013 14th rounder was the Northwest League's MVP that year, but struggled in his first try at full season ball, hitting .245/.328/.361 between Lansing and Dunedin.
His struggles at the plate continued through his first month in Australia, but he appears to have started to figure things out, hitting .293 over his last 10 games.
Like Lopes, Dantzler puts the ball in play. His swing tends to get a little long at times, but he's hit several towering home runs.
The Import Rule
Canberra is currently in a three-way battle for the ABL's final playoff spot. If they come up short by a game, they can point to a game before Christmas as the culprit.
The Cavalry and Brisbane were tied at 4 before Canberra exploded for 7 runs in the top of the 13th to secure a victory. Or so they thought.
The import rule dictates that an ABL team have at least 5 Aussies in the 10-man lineup at all times. When outfielder and homebrew Adam Silva was hit by a pitch in the 6th inning and couldn't continue, Canberra Manager Michael Collins was faced with a dilemma. The only available Aussie on the roster was pitcher Wayne Ough. Collins, perhaps mindful of when Adelaide broke the quota in a game against the Cavalry last year and only received a fine, took a chance, and substituted American OF Alex Hudak in the lineup.
The league decided to take the victory away from Canberra, much to the surprise and frustration of Murphy. He told Polkinghorne that the only reason US players had become an issue was because Canberra won the league title in 2013 with a number of them in the lineup, which caused other clubs to complain. The import rule was at two players at that time, and has now risen to 5. And that's not good for the game, says Murphy:
"(The ABL) should be more focused on putting the best possible product on the field from a baseball standpoint. Isn't that what people come to see? They pay to watch these games because they feel they're watching the best possible baseball they can watch in Australia. Once (MLB) teams start to realize it's no longer a competitive environment then they're going to pull their talent from the league, and then what will be left? - you're going to be left with what you had before the ABL started."
A rule is a rule, but Murphy does raise a good point. Some teams have trouble attracting Aussie players, particularly if there is not a strong amateur baseball program in the area. Many Milb Aussie-born players prefer to play in their hometowns, not necessarily where their major league teams assign them - as Polkinghorne noted, the only MLB-affiliated local player on the Cav's roster is C Robbie Perkins, and the rest are "players the other (Aussie) states don't want". And MLB teams likely would be less than thrilled at the prospect of having playing time taken away from their players.
Just the same, the rule was put in place to help develop Australian talent. On the other side of the coin, having to put a pitcher in the lineup at any spot other than the mound makes a bit of a mockery of the game, and also increases the risk of injury to that player. The problem with any such sort of quota is that assumes a level playing field, and equal access to talent. Such is not the case in Australia, and the league needs to address this issue in the off season. As long as Aussie players can pick and choose where they play in the league, there's an uneven distribution of talent. An annual draft of native players, to us, seems like a logical step.
The Future of the ABL
Unequal access to talent and unstable franchise ownership doomed the first edition of the ABL, which lasted from 1989 to 1999.
MLB and the Australian Baseball Federation re-launched the league in 2010, with MLB retaining a 75% stake in the funding of the partnership. The league owns all of the franchises, which has lent the league more stability than its previous incarnation. Sponsorship from local businesses helps to defray expenses.
The concept behind the league is to help develop Australian talent, as well as giving MLB and Asian prospects additional playing experience.
The league published attendance figures for each game in past years, but appears to have stopped the practice. From what we have seen, most parks are half full at best, meaning that attendance likely is averaging something just shy of 1 000 spectators per game. We're not sure if that makes the sport viable in the long term.
According to Polkinghorne, baseball is still very much a minor sport in Australia, ranking far behind cricket, and it probably ranks with soccer and women's basketball with the sporting public. If MLB were to pull up stakes, he notes, it would deal a serious blow to the Aussie game.
The original five year agreement MLB and the ABF signed is up for renewal after this season, and it will be interesting to see where they go from here. With the announcement by President Obama of a gradual restoration of diplomatic relations between the USA and Cuba, we wonder if the Serie Nacional, which mostly fits MLB's off season, might become the desired location for major league teams to place their prospects. It's closer, meaning that teams can keep closer tabs on their investment, and the cost of transporting players would be less. This is a scenario that is several years away, at best, though. Just the same, the ABL is at a bit of a crossroads. The direction it takes from here is dependent on how happy MLB is with their current arrangement.
The Blue Jays, for their part, have to be pleased with the arrangement. Jon Berti used a successful 2013 ALB campaign to vault himself into fringe-prospect status. Other Toronto farmhands like Michael Crouse, Kenny Wilson, and Marcus Knecht have had successful stints in the league. And Alford's struggles now will likely pay dividends when he starts full season play this year - he will be a more polished, patient hitter after this experience.