2B
Kevin Vicuna
, OF
Norberto Obeso
, and SS
Bo Bichette
may all be several years away from prime time, but they have been impressive so far under the scorching Florida mid-day sun, and may have a chance to grow up together and progress through the system.
Leadoff hitter Vicuna was ranked the 30th top international free agent in 2014 by
Baseball America
. BA was high on his glove, his bat not so much:
Vicuna is slightly built, so he doesn't have any loud tools, but scouts are drawn to the way he moves at shortstop. He is light on his feet, bouncing around the position with a nose for the ball and vacuum hands. He's a smooth fielder with a quick transfer. Vicuna has the range for shortstop with more quickness than speed, as he's a slightly below-average runner. Any team that signs him will be banking on his speed and below-average arm getting better with more strength so he can stay at shortstop. Vicuna's glove is ahead of his hitting. While his bat speed has improved, he lacks strength to do much damage. He has a leg kick and an uppercut approach that he will have to simplify.



Compared to 2013 top signing
Yeltsin Gudino
, Vicuna fared well in his first year of pro ball in the DSL, posting a line of .268/.354/.304. Unlike Gudino, who has struggled to put on weight as much as he has at the plate (assigned to Vancouver this year, Gudino owns a .168 average over three minor league short seasons), Vicuna has shown an ability to barrel up balls. Only 18, the Venezuelan has caught the eye of Chris King (@StatsKing), a Tampa-based evaluator, who says, "once he gets stronger, he's gonna be a beast." Vicuna already shows a line drive swing, and when he does put more weight on (he's listed at 140 lbs), it's easy to see that turn into gap power.
Vicuna played short in the DSL last year, but has split time with Bichette at the keystone positions this year. A fixture atop the GCL Jays batting order, he has hit safely in 9 of 11 games so far, and has 6 multi-hit games.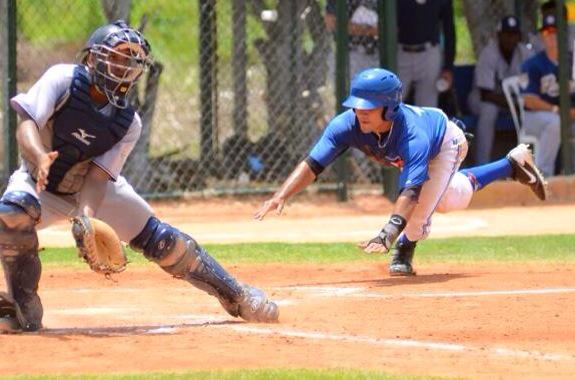 Norberto Obeso - Twitter image
At 20, Obeso is the oldest of the trio. The native of Hermosillo, Mexico, was a fall, 2013 signing, and didn't make his Blue Jays debut until 2015 in the Dominican Summer League. But what a debut it was, as Obeso showed a highly advanced approach at the plate, walking 58 times in 332 plate appearances, to post an eye-popping .469 OBP, to go along with a .351 batting average.
Promoted stateside to play in the GCL this year, Obeso continues to show that patient, pitch-hunting approach at the plate. King has been impressed with Obeso, even though he's been outshone by his two batting order running mates when he's watched the GCL Jays:
He's got some good strength and controls the bat. He also has a good idea of the zone and rarely expands. Very intriguing guy. The thing that stands out about him is his plate discipline. When he gets his pitch, he just unloads.
Part of Nobeso's success at the plate so far in his career could likely be attributed to his playing experience in Mexico. Listed at 5"11", he's not the biggest guy in the world, and he does not have one outstanding tool, which may explain why he was not a heralded signing, but the .387/.535/.548 line he's posted (albeit in only 9 games) in the GCL so far makes him one worth watching further. At 20, he may be a little old for this level, and once the club feels he's able to handle the transition, he may be off to Bluefield.
Bichette is the highest profile of the three. The son of the former big leaguer was named Florida's Mr Baseball, as well as Gatorade's Florida high school player of the year. He had been pegged as a first round talent prior to the draft, but slid to the 2nd round. Money often being more of a deciding factor than talent when it comes to draft order,
Bichette said that he turned down at least four other MLB teams before being chosen by the Jays.
MLB Pipeline noted the diversity of opinions about him prior to the draft:
Over the summer, Bichette showed the ability to square up quality pitching and his raw power was on display when he won the Under Armour All-American Game Home Run Derby in Chicago. This spring, he was still hitting the long ball, but also was getting tied up on mid-range fastballs inside. While he doesn't have the same exact leg kick setup as his father and brother, there are a lot of moving parts to his swing which concerns some scouts. He does have more bat speed than his brother did coming out of high school. A below-average runner, he's probably best suited for second base defensively, or perhaps left field.

Bichette has been a bit of a polarizing prospect this spring, with some unsure his unorthodox setup will work at the next level. But the bloodlines and the power potential could still have the Arizona State commit off the board in the early stages of the Draft.
Bichette's bat speed is on display in this video:
The youngest of the trio (by two months), Bichette has already shown that bat speed in the GCL, slashing .381/.417/.619 over his first 11 games. King says that he's hitting a lot of balls hard, and using the whole field, which may be evidence of some of the work the organization has put in with the former pull-happy hitter since the draft. Even though he's splitting time with Vicuna at SS and 2B, his long-term prospects are better as a second or third baseman. Like Obeso, it's easy to envision him moving on to Bluefield before the summer is over.
Players in the GCL are among the rawest in terms of development, and often the most successful prospects at that level are the ones with the loudest tools. Once players move up levels, the players with the more rounded games tend to move on, while those with holes in theirs tend to be shunted aside. And even those this trio has dominated thus far in league play, there are areas of their skill sets that need further development. For Vicuna, it's the need to become stronger, while for Obeso the power has yet to manifest itself, and for Bichette, it may be the matter of where he plays. Just the same, it's exciting to watch how these three have fared so far in the young GCL season, and it's easy to envision them growing up together as they progress through the Blue Jays sytem.