We watched as our Twitter timeline blew up late Friday night with news of the Josh Donaldson trade, and we have to admit to a touch of sadness, mixed in with the elation of getting a bonafide first division player.
When you follow the progress of players in the Blue Jays system as closely as we do, it's hard not to get at least a little emotionally invested in them. When one (or more) gets dealt, it's hard not to be a little disappointed, no matter the return. At the same time, baseball is a business, and prospects can often be used as currency that can be turned into assets that can improve the business.
We'll be flat out honest - we were really looking forward to watching Franklin Barreto in a Blue Jays uniform one day. We had already planned a couple of road trips to Lansing to watch him play - early in the season, in case of a mid-season promotion to Dunedin. He was the best prospect in the organization not named Daniel Norris, Aaron Sanchez, or Dalton Pompey. He will crack most Top 100 lists this year, and we fully expect him to be a Top 10 prospect by 2016.
It's also interesting to wonder why an organization decides to trade a prospect. Is it as simple as to get quality, you have to give it up in return? Or is it a flaw that the organization's scouts had spotted? In the case of Kendall Graveman, it's likely that while the club liked his rapid progress and strike-throwing ability this year, maybe they felt that his fastball velocity wasn't going to be enough to get AL East hitters out. And Sean Nolin, who has had trouble staying healthy the last two seasons, might have the type of high maintenance body that might keep him from being the innings eater that they originally thought they had. As for Barreto, it's hard to imagine there being any flaws in his game other than chasing the odd breaking pitch out of the zone, but maybe the club realized after last season that he wasn't going to stay at shortstop, and with Dalton Pompey and Anthony Alford in the outfield picture, maybe things were going to be a bit crowded with him. We read the stats, watch the games on milb.tv, and even attend them in person, but there's so much about prospects we don't know. We don't know about their characters, their personalities, or the mental side of them. Are they mature? Do they have some issues with self-regulation and impulse control that might inhibit them from reaching their ceilings ? Have they already reached their ceilings ? Only the organization knows for sure.
This much we do know - all three have upside, with Barreto leading the pack. At 18, he was the MVP of the Northwest League, a loop populated by college grads 3 and 4 years older. He has been a high profile player since he was 12, and everything in his pro experience so far suggests that he will be an impact bat. He has above average speed, and top notch athleticism. The only downside in his game, of course, is his glove, and it may just be a case of shortstop not being a good fit for his skills. Whatever the case, the bat will play, and Athletics' fans should take comfort in that. This kid will hit, and while he still is relatively far away, his development will likely accelerate once he reaches full season ball next year, and he may advance quickly.
Graveman is another premium athlete, who fields his position well, repeats his delivery, and is a groundout machine. He showed durability this year, and should log a lot of innings in the future. He will have some stiff competition for a starting job with Oakland next spring, but he has a shot at a back of the rotation spot. Graveman will log a lot of innings, and break a few bats along the way if he continues to develop as he has this year.
Nolin was a bit of a victim of a numbers game, and his inability to stay healthy over the past two seasons. He matched Marcus Stroman K for K in AA two years ago, and while command of all four of his pitches is more of a selling point with him than his velocity, he can dial it up to 95 on occasion. Nolin, too, profiles as a back end of the rotation starter. Stroman, Aaron Sanchez, and Daniel Norris surpassed him on the organization's depth chart this year, which likely made him expendable.
We admit to beaming with more than a little pride when Sanchez made his bullpen debut in scintillating fashion this summer. We had watched for more than a year as the criticisms piled up on the tall righthander: lacked command on his fastball, landed in too upright a position with his delivery, etc. While he was lights out in relief this year, he still is an unproven commodity as a starter, which reminds us of a baseball truism: prospects are just that. They're not battle-tested, time-proven major leaguers. They may be one day, but when they're in the minors (especially the low minors), they're still far away. There was much gnashing of teeth when the Blue Jays traded Justin Nicolino to the Marlins, and Noah Syndergaard to the Mets two years ago, but the former had one of the lowest K/IP in the minors this season, and the latter was hit pretty hard in the rarefied air of the Pacific Coast League and Las Vegas' Cashman Stadium launching pad. The Blue Jays scouting staff obviously saw more in Sanchez. And say what you will about R.A. Dickey, Toronto has had 440 innings from the knuckleballer since acquiring him. The Mets have had 0 from Syndergaard.
Getting Josh Donaldson in return, of course, is a plus. The Blue Jays are getting a power hitting third baseman in his prime, whom the team will have under control for the next three seasons. Our disappointment is nothing compared to A's fans - this was how management tried to distract them on Friday: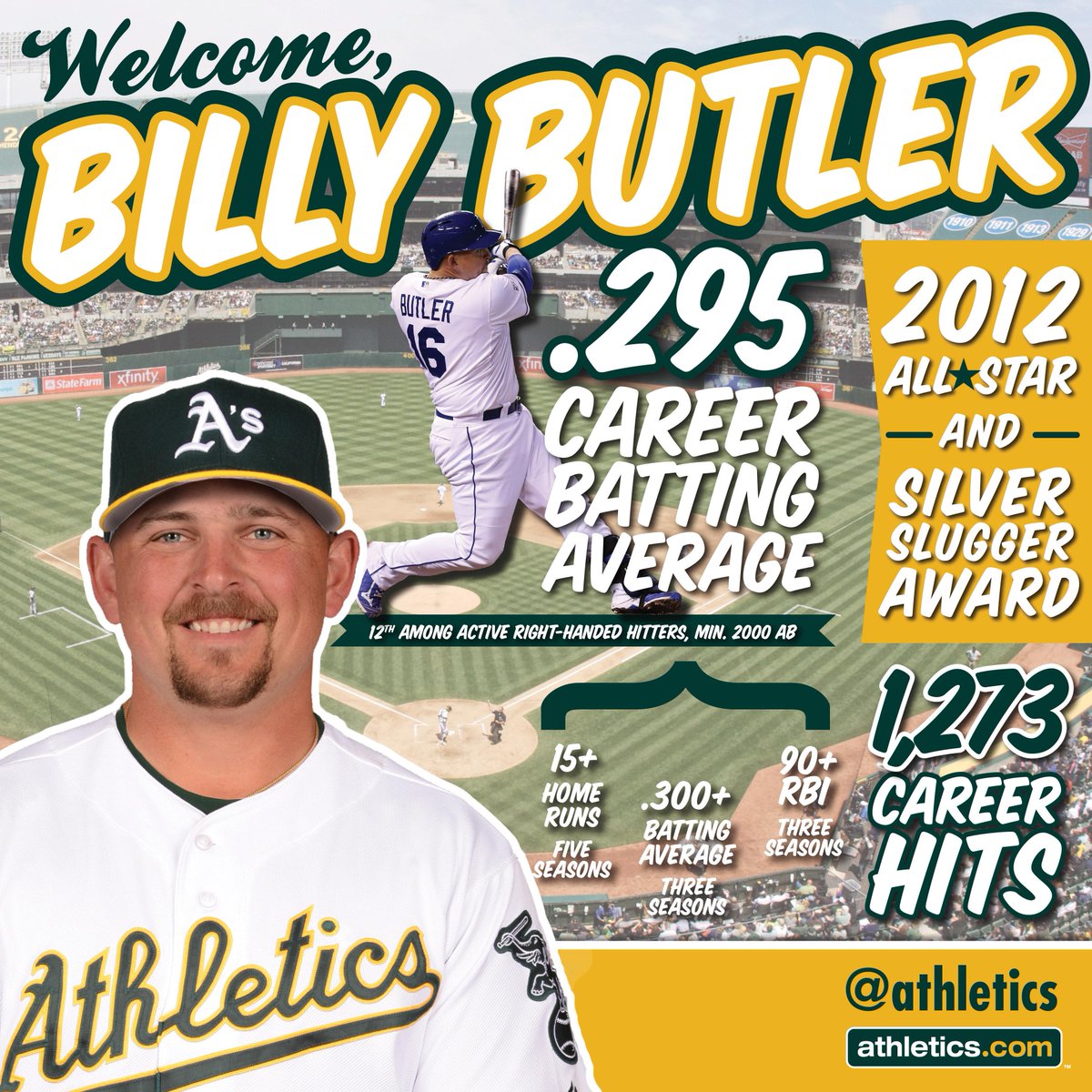 "Hey, we may not have Josh Donaldson, but look - Billy Butler!"
The Blue Jays have one of the largest pro and amateur scouting staffs in baseball, and a wealth of senior administrative experience. If they deemed Barreto surplus, it may have been because of a flaw not yet apparent in his game, or because they felt there was an adequate depth of projectable players in the system to replace him (hello, Richard Urena). Or maybe they just felt that this was the price that had to be paid to land a premium player. Even though GM Alex Anthopolous said Brett Lawrie was the key to the deal being consummated, maybe the A's don't even entertain the notion of a trade to begin with unless Barreto was included.
No matter what, if we want to watch him play in Lansing, it may have to wait until August, when Oakland's Midwest League affiliate, the Beloit Snappers, are in town to play the Lugnuts. We're betting he will already be in the High A California League by then.